On November 19th, in recent years, due to fierce competition in the electronic products market and declining consumer demand, the development of Japanese high-tech enterprises such as Toshiba, Panasonic and Fujitsu has gradually become in trouble and they are looking for new market opportunities. Supported by the Japanese government's subsidy policy, major electronics companies have turned their attention to the development of high-tech vegetable cultivation business, setting off a wave of "farming".

According to foreign media reports, Toshiba has set up a "clean room vegetable garden" in the idle floppy disk factory in Yokosuka, Kanagawa Prefecture, and planted thousands of vegetables such as lettuce, spinach and sugar beet on the production line used to assemble floppy disks. As a food manufacturer, Toshiba has an innate advantage because it can make almost all the equipment that helps plants grow, including artificial lighting, power generation equipment, water purifiers, and growth molds for temperature and environment control. The vegetables are cultivated in the environment originally used to produce electronic equipment. Since there is no bacteria to breed, the vegetables will be fresher and the edible period will be prolonged.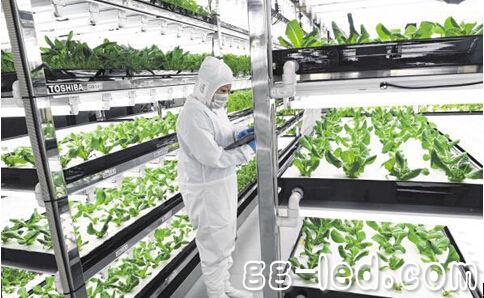 The picture shows Toshiba's "Clean Room Vegetable Garden" in Yokosuka, Kanagawa Prefecture, and employees are checking the growth of vegetables.

In order to make the vegetable growing business profitable, Toshiba will continue to expand production scale. It is estimated that by 2015, the annual output of vegetables will reach 3 million, and the annual sales target is 300 million yen (about 15.68 million yuan). Toshiba will also expand the vegetable growing business to Asian countries and the Middle East. Toshiba said it hopes that its vegetables will be available in Japanese supermarkets in 2015.

Compared with Toshiba, Fujitsu has taken a more cautious approach to vegetable cultivation. In 2013, Fujitsu transformed its Aizuwakamatsu semiconductor plant in Fukushima Prefecture into a lettuce cultivation plant, using the sensor monitoring technology to grow lettuce in a sterile clean room. Fujitsu said that this kind of lettuce does not need to be cleaned, can be eaten directly, and because the potassium content is only 86% of the potassium content of common lettuce, it is more suitable for patients with severe kidney disease.

At present, Fujitsu's dust-free lettuce has a daily production capacity of 3,500 trees, with an annual output of 1.3 million. According to projections, the price of such lettuce is very high, 500 yen per 90 grams (about 30.5 yuan), and the price of super pork is ten times. Fujitsu's annual profit target for lettuce is around 150 million yen (about 8 million yuan), and in 2016 it will reach 400 million yen (about 20 million yuan).

In addition, in 2013, Sharp built a strawberry plantation laboratory in Dubai, UAE, using home appliance technology. LED lighting and "plasma ion" air purification technology are used in the laboratory. Compared with Japan, Dubai's solar thermal resources and labor costs are lower, and plant factory operating costs are lower. Sharp said that after the successful trial in Dubai, or consider expanding the business to other parts of the Middle East.

In 2013, there was also the electronics giant Panasonic in the vegetable industry. Matsushita established a vegetable cultivation demonstration project in the Fukushima factory that originally produced digital cameras, mainly for the production of low-quality lettuce and other agricultural products for patients with kidney disease. Matsushita said that the business will be industrialized in the future and it is estimated that it will produce 730,000 lettuce per year.

These old electronic giants have turned their attention to the development of high-tech agriculture, what is the reason? According to reports, the Japanese government has attached great importance to the use of agricultural science and technology and biotechnology in recent years to develop high-tech agriculture, ecological agriculture, and organic agriculture. Japanese Prime Minister Shinzo Abe encourages technology companies to enter agriculture, use robots and sensors to assist agricultural production and exports, and also ease the impact of lowering agricultural tariffs if they join the Trans-Pacific Partnership (TPP). Abe believes that if large-scale technology companies invest in agriculture, they can change the agricultural structure that has always been dominated by small-scale farmer farming, leading to high food prices, and effectively reducing the price of agricultural products.

But promoting agricultural development in Japan is not the only reason for the electronics giants to "go to the sea". The Japanese government is gradually expanding subsidies for high-tech agriculture and promoting it nationwide. In accordance with the policies introduced by the Ministry of Economy, Trade and Industry, etc., in order to promote the revitalization of the cause after the Great East Japan Earthquake, the Japanese government will raise and select some 2013 "Advanced Agricultural Industrialization System Demonstration Projects", and the amount of state subsidies can reach 300 million yen. (about 18.38 million yuan).

Rice Mill,Rice Mill Machine,Small Rice Milling Machine,Rice Mill Equipment

Hunan Furui Mechanical and Electrical Equipment Manufacturing Co., Ltd. , https://www.thresher.nl