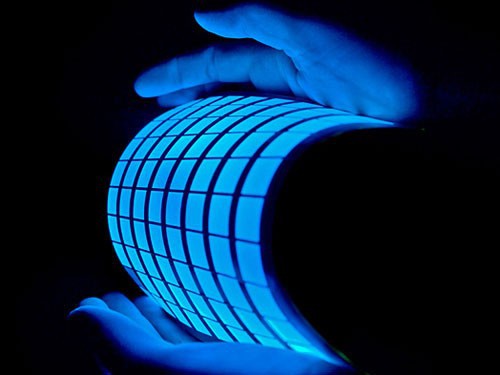 Athene, a Japanese semiconductor-related manufacturing technology developer, has developed a new technology that can produce high-definition OLED panels. The report pointed out that metal masks are used when OLED materials are deposited on glass substrates at high temperatures, and Athene has successfully developed a device that does not deform even when the temperature exceeds 100 degrees by using nickel and iron on the mask material. The improved version of the mask product can also increase the pixel density of the OLED panel to more than 500ppi, which is approximately 2 times the current level. Current mask products will expand and deform due to heat as long as the temperature exceeds 60 degrees.

According to the report, Athene plans to invest hundreds of millions of yen to build a production line in Fujisawa City, Kanagawa Prefecture, and plans to sell the mask products to OLED panel makers in 2015. The first annual revenue target is 100 million yen.

The current OLED panel market for mobile devices is dominated by Samsung Electronics. Its global market share of OLED panels for smartphones is as high as about 90%. However, in order to attack OLED panel business opportunities, Japanese manufacturers have also joined hands to fight against Samsung.

Sony, Panasonic, JDI and INCJ announced on July 31 that in order to speed up the research and development of OLED panels and mass production in the early stages, a new company "JOLED", which is engaged in research and development/production of OLED panels, will be formed.

Nikkei News August 6 pointed out that JOLED will invest 20 billion yen in 2015 to build a trial production line of OLED panels, and will test production in the second half of 2015 and sample shipments in 2016. According to reports, the object of JOLED's planned trial production is 10-12 inch for tablet PCs and 13.3-inch mid-size OLED panel for notebook PCs. The monthly production capacity is about 4,000, and it is planned to be mass-produced in 2018 afterwards. The goal is to supply Apple and other tablet/laptop manufacturers.

19Mm Metal Switches, also known as Metal Push Button Switch in harsh working environment. The most competitive advantage of this Metal Switches is that it is high mechanical life, in which momentary could reach 1,000,000 cycles and self lock is 500,000 cycles. Stainless steel is resistant to damage IK10, it is very hard and reliable. Therefore, this series of metal switch is widely used in automobiles, ships, medical and large mechanical equipment.

In order to ensure the trust of our customers, this series Push On Push Off Switch has passed UL testing and certification, IP67 dust-proof and waterproof certification, TUV, European and American environmental protection RoHS and lead-free environmental protection certification .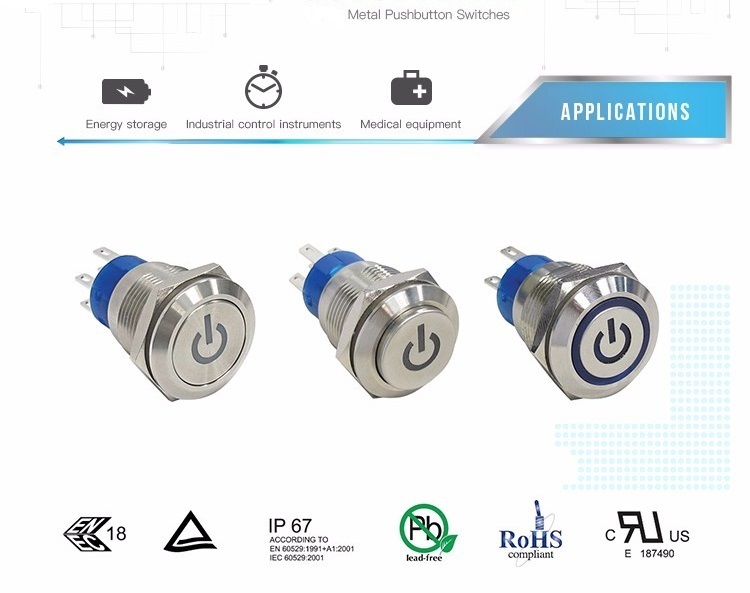 Our 19mm Waterproof Push Button Switch have a variety of materials, including stainless, brass with nickel plated, brass with chrome plated, AI alloy with black anodized. This serious Push On Push Off Switch could offer different LED Light , including white, red, yellow, green. Customer can select power logo indicator when controlling the power supply, customers could choose the double color indicator light when Switching different function.

Furthermore, all the LED indicate light are provided by well-known LED Lamp manufacturers, guarantying the long-term use of LED lights and high-life mechanical life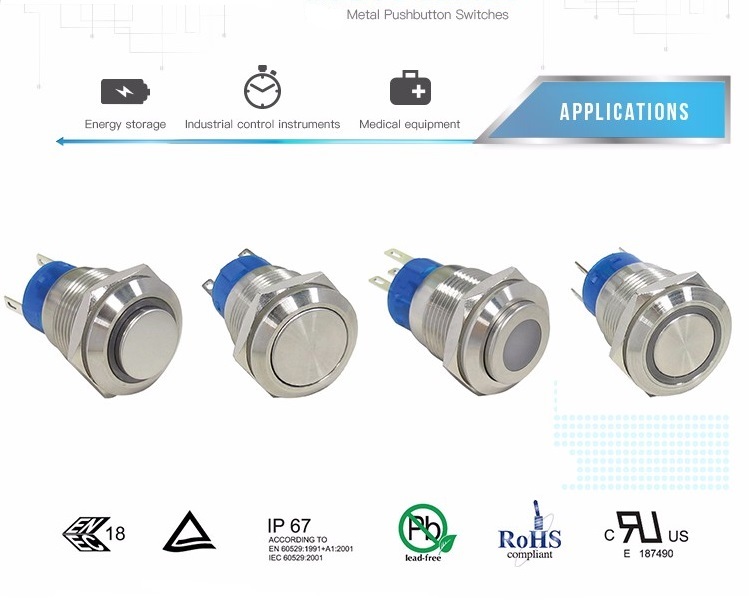 19MM Metal Switches

19Mm Metal Switches,Metal Push Button Light Switch,Metal Ss 19Mm Switch ,Metal Led Light Push Button Switch

YESWITCH ELECTRONICS CO., LTD. , https://www.yeswitches.com