Dalianda Holdings, a leading semiconductor component distributor dedicated to the Asia-Pacific market, announced that it has launched Toshiba's complete solutions for industrial electronics and consumer electronics applications, including Toshiba's hybrid DMOS (BiCD) A motor driver manufactured by process technology and a microcontroller that integrates high-resolution PPG and high-precision analog control interface.

This article refers to the address: http://

Toshiba motor drive: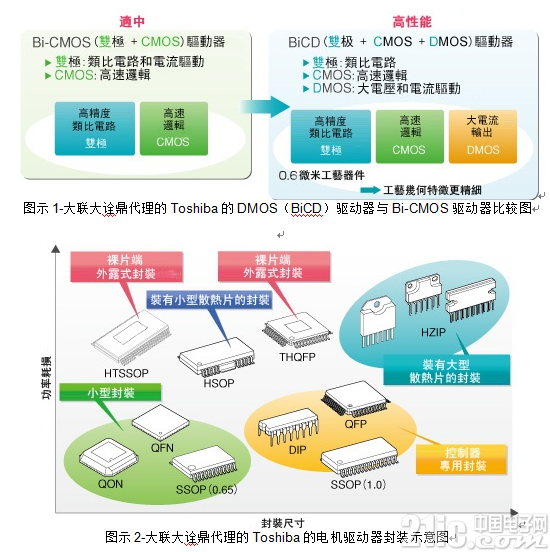 Product List

Motor drive for office and industrial equipment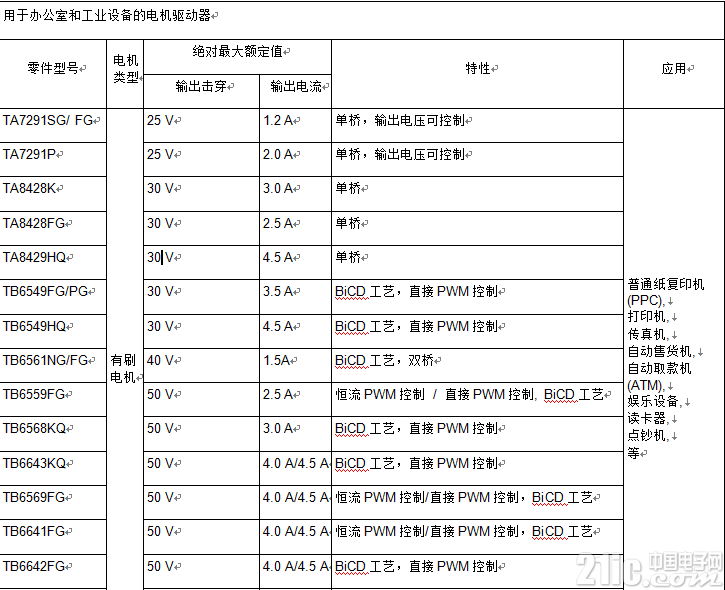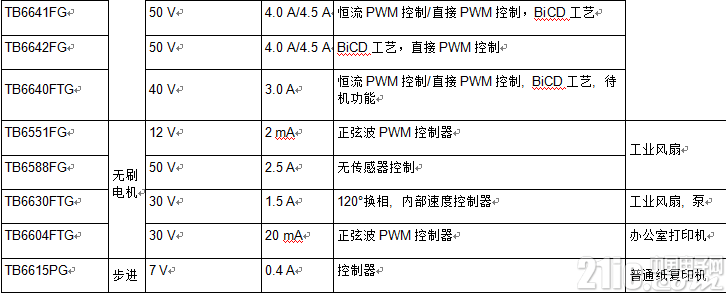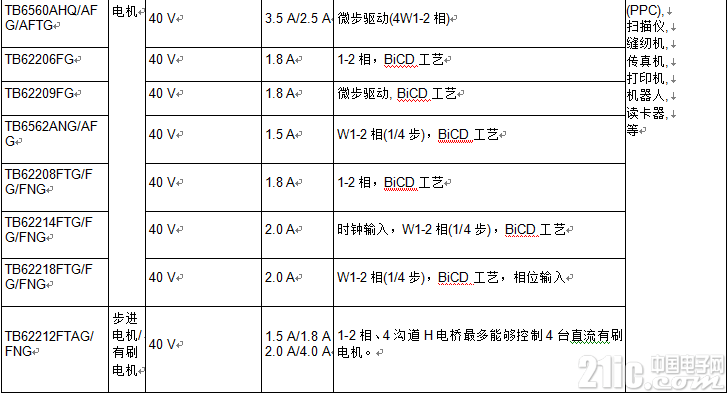 Motor drive for office and industrial equipment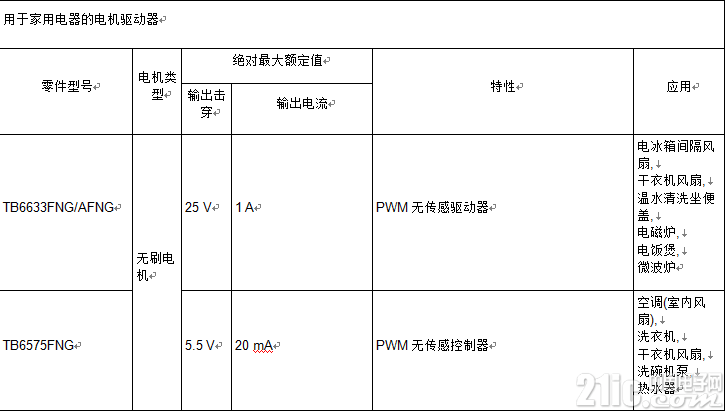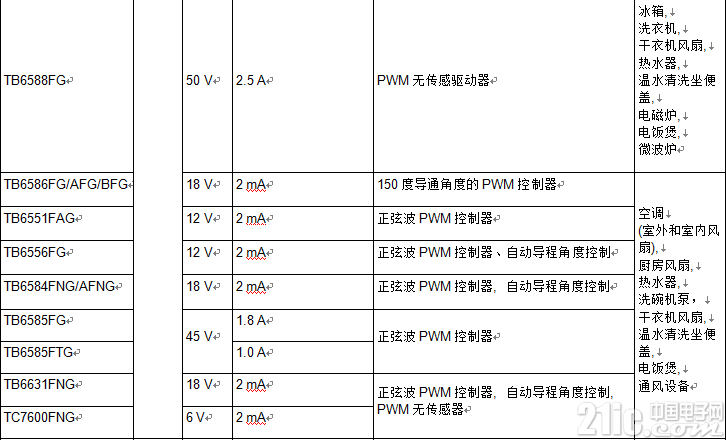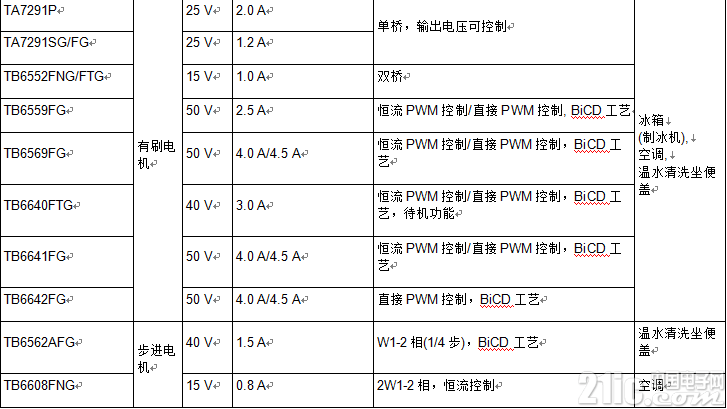 Motor driver for battery powered appliances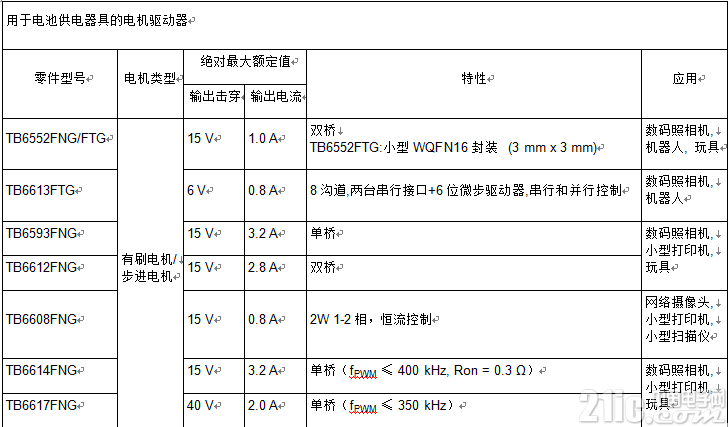 Toshiba Motor Micro Control Processor:

In recent years, the market has been growing in demand for energy-saving and smart products, which is exactly what Toshiba has been working on. Toshiba is the first company to introduce energy efficiency in motor applications by introducing coprocessor vector control (vector engine). The M370 family of microcontrollers, including the Vector Engine (VE), is part of the energy-efficient CortexTM-M3 microcontroller family developed by Toshiba.

Toshiba is currently developing a series of products that incorporate a "new vector engine" (tentative name, under development) that is more widely used and will further increase the efficiency of motor design. This development will begin with TX03, followed by the TX04 series (based on the CortexTM-M4F core). In addition, for the low-cost solution based on 8-bit microcontrollers, the latest TX00 series (with CortexTM-M0 core) equipped with PMD (programmable motor driver) circuits will be introduced. Toshiba will further strengthen these product lineups with a range of different embedded memory sizes, peripheral IP, and different application development kits (including home appliances, office equipment and factory automation equipment).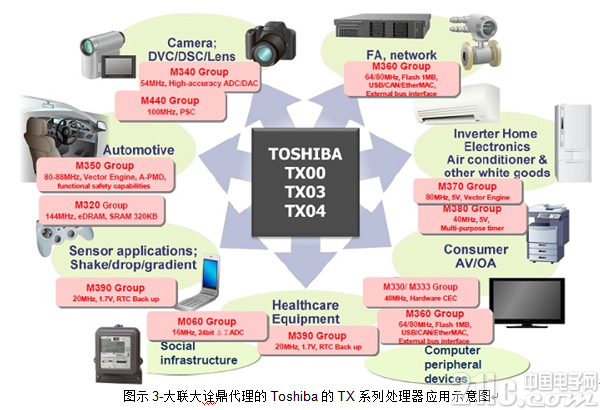 Applications such as digital camera lens control require two simultaneous control operations: high-speed, low-noise servo control for a variety of mechanical devices to ensure precise positioning of motor, actuator (Note 1) and sensor feedback control It is usually necessary to use multiple microcontrollers and dedicated motor drive ICs.

Toshiba's TX03 series of microcontrollers: Microcontrollers such as "TMPM343F10XBG", "TMPM343FEXBG" and "TMPM343FDXBG" use four sets of their original coprocessor "PSC" (Note 2) to connect and control motor-driven motor drive devices. And an amplifying circuit for controlling the sensor. This enables high-precision synchronous control of multiple mechanical devices through a single microcontroller, as well as reducing material usage and PCB (printed circuit board) size.

Features:

(1) Using the ARM Cortex®-M3 core as the CPU, supporting up to 50MHz operating frequency;

(2) equipped with four Toshiba's original programmable servo control unit (PSC): it can share the processing and calculation time of the CPU to achieve low power consumption and high efficiency;

(3) The product lineup provides three different memory sizes to meet different system requirements;

(4) Built-in 2-phase pulse counter makes it easier to detect speed, position and phase difference. An interpolated AD converter link mode with a position sensor with a simulated output type enables position measurement with low load and high precision;

(5) TMPM343F10XBG, TMPM343FEXBG and TMPM343FDXBG have sensor interface and interpolation coding function, achieving high-precision position control of 1μm or lower;

(6) Built-in 12-bit AD converter;

(7) The phase difference setting function is suitable for ultrasonic actuator and motor control;

(8) built-in sensor amplifier, Hall correction circuit, bias circuit correction DA converter;

(9) Built-in continuous variable amplifier suitable for adjusting the gain of the analog sensor;

(10) 162 ball VFBGA package.

application:

Single-lens camera, mirrorless camera, and surveillance camera lens. Radio controlled aircraft and robotic operations. Somatosensory control of video games, such as industrial servo motor coding. High-precision, low-power handheld applications are required.

Motor control of wireless remote control aircraft and robotic arms in automated factories; motion sensing control of video game consoles; and servo control applications such as industrial servo motor encoders.

specification: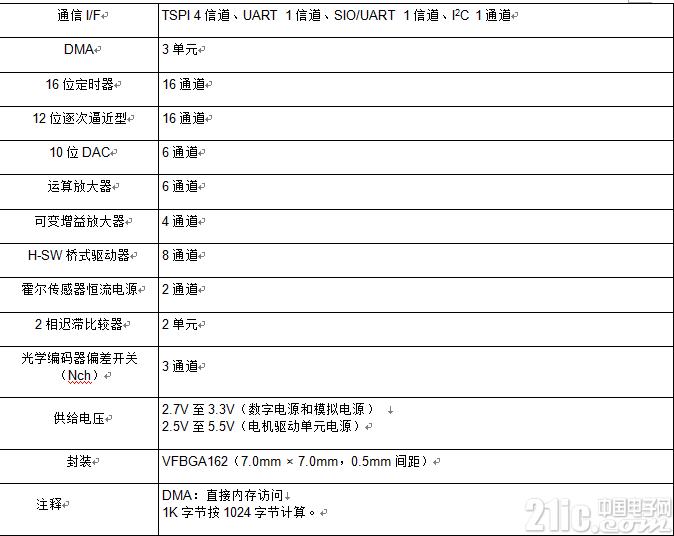 Sterilization Card Bags

Guangzhou Ehang Electronic Co., Ltd. , https://www.ehangmobile.com