Do you have troubles when the water temperature is hot and cold during bathing? Are you always worried about the safety of the pungent gas smell coming from the water heater? Do you have the trouble of going back and forth between the kitchen and the bathroom in order to find a suitable water bath? Are you frowning because of too high a gas bill in the winter?

In order to solve these problems for the majority of users, looking for a new gas water heater that can be trusted, Xiaobian and his party arrived at Guangdong Wanhe New Electric Co., Ltd. in Ronggui High-tech Zone, Shunde, Foshan on August 3.

According to the introduction of Wanhe's engineers, the gas water heater model JSQ20-10C26 (hereinafter referred to as C26) will be introduced to the netizens today. The gas pump will be tested in a national laboratory with professional equipment.
JSQ20—10C26

Click here to view all news photos

Description: C26 is a gas fast water heater with stainless steel vertical brushed silver panel, elegant and stylish. The main features of this product are AI intelligent constant temperature, variable frequency combustion, a number of humanized functional design, energy saving and environmental protection. The price is moderate, the performance is excellent, and the price is very high.

Product specifications:

Type: Household gas fast water heater

Model: JSQ20—10C26

Gas type: natural gas

Applicable water pressure: 0.02~1.0MPa

Rated hot water yield: 10L/min when the temperature rises by 25°

Rated heat load: 20kW

Rated power supply: 220V-50Hz

Rated power: 36W

Manufacturer: Guangdong Wanhe New Electric Co., Ltd.

Shape, material: simple and stylish industrial shape, ultra-thin body. The stainless steel vertical brushed silver panel, this vertical wire drawing panel is very good to avoid the problem that the horizontal drawing panel used in the general product is easy to hang and scratch the fuselage, and the detail design is very user-friendly.
The stainless steel vertical brushed silver panel used in the outer casing feels simple and beautiful, and the brand LOGO workmanship is also exquisite and exquisite.

Click here to view all news photos

Aout Other Silicone Bracelet :

As we konw,most people like wear bracelet,because it can make a deifferent for people.Bracelet can be made of many material,common bracelet material is golden,silver ,stainlees and son on.But these material is stiff,rough and may cause skin irritation if worn incorrectly.Do we have a soft and smooth of texture,and that will not cause any allergic reactions after wearing?Of course! It is Siliocne bracelet.Silicone bracelet is made of 100% food grade siliocne,it is very safe for people and Eco-friendly for convironment.It is suitable for everyone,young,old,children,even baby!The range of people using silicone bracelets is wide,we think,Silicone bracelet must be hot sales in your market.

Silicone bracelet introduction:
1.Product name: Silicone Wristbands ,Single Color Silicone Bracelet, Layer Silicone Wristband ,Multicolor Silicone Bracelet,Fashion Silicone Wristbands,Silicone Double Color Bracelet
2.Place of origin:Guangdong China
3.Color:any pantone color
4.Logo:Printing,debossed,embossed
5.MOQ:500pcs.
6.Package:1 pcs/opp,customized design is available.
7.Design:Customized/stock
8.Certification:FDA,LFGB,SGS,ROHS,etc.
9.Usage:Use for watch


10.Silicone bracelet for reference.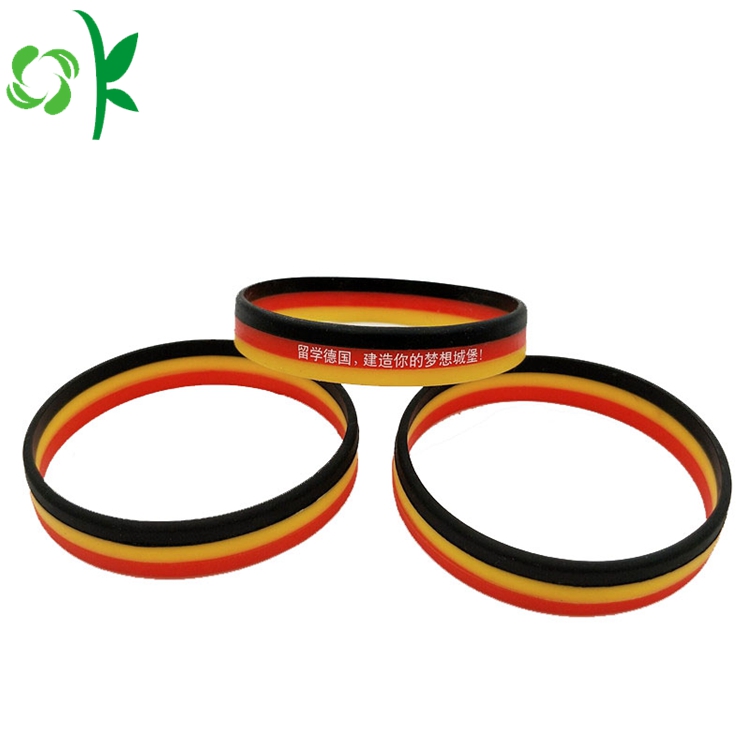 Other Silicone Bracelet

Silicone Wristbands,Single Color Silicone Bracelet,Layer Silicone Wristband,Multicolor Silicone Bracelet,Fashion Silicone Wristbands,Silicone Double Color Bracelet

OK Silicone Gift Co., Ltd. , https://www.oemsiliconegift.com